What's the Difference Between Popular Injectables Like Botox and Dysport?
January 6, 2022 by VitalSkin Dermatology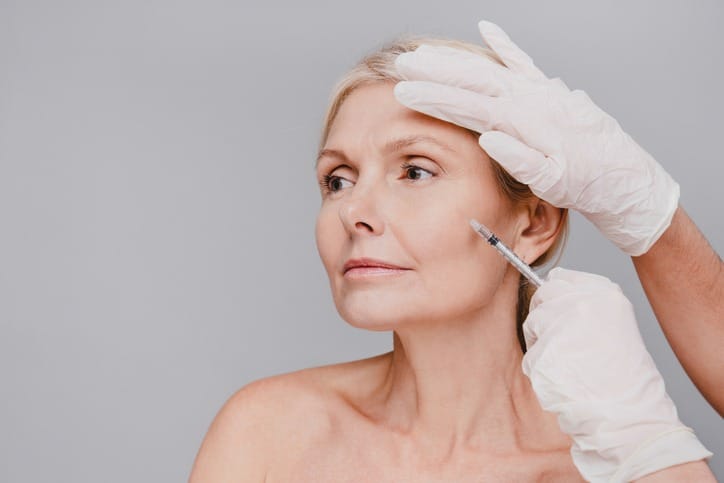 Injectables have come a long way from their early days. Today, the market offers so many options when it comes to injectables that it can be overwhelming for those who are new to the space? Which injectable does what, and which is the best option for you? Let's look at the different categories of injectables available from your dermatologist and at the differences between some of the most popular products out there right now.
Neuromodulators vs. Dermal Fillers
There are two main categories of injectables: neuromodulators and dermal fillers. They both function very differently when injected and, therefore, are often used to address different problem areas.
Neuromodulators
Neuromodulators work by paralyzing or weakening certain muscles in the face. This relaxation in specific muscles can reduce the appearance of wrinkles and lines in the face. Perhaps the best known neuromodulator is Botox, which was the injectable that paved the way for many of the interventions that follow. Other common neuromodulators include Dysport, Jeuveau and Xeomin.
Dysport vs. Botox
The primary difference between Dysport and Botox is in how widely each injectable spreads. Dysport spreads more quickly, making it a more efficacious treatment for large areas such as the forehead. Botox, however, is more concentrated and can provide more dramatic results, in many cases.
Dermal Fillers
Dermal fillers do exactly what the name tells you they do—they fill in the skin, providing volume and, in some cases, support. This 'fill' effect can be used to address wrinkles, laxity and hollow spaces in the face, such as in the undereye or at the cheeks.
Many fillers contain what is known as hyaluronic acid, a common ingredient found in hydrating and plumping serums. Popular hyaluronic acid fillers include Restylane, Juvederm, Vollure and Belotero.
There are also non-hyaluronic acid fillers out there, commonly referred to as non-HA fillers. Some popular versions of these fillers include Sculptra and Radiesse. Finally, doctors sometimes also use a patient's own body fat as a dermal filler.
HA vs. Non-HA
What are the advantages of HA or non-HA fillers? Non-HA options can last longer, making them very appealing to some. Others prefer HA because of the fact that HA is a substance that is already present in the body, thereby reducing the possibility of reaction.
Which Filler Is Right for Me?
Choosing the right filler should be done in consultation with a cosmetic dermatologist. They can make recommendations on the injectables that will work best for your particular needs.
As an overview, the following areas are typically treated by these injectables:
Brow furrows and wrinkles in the forehead— Neuromodulators
Hollow eyes – HA fillers or fat injections
Marionette lines— HA fillers
Nasolabial folds – HA and non-HA fillers
Thin lips – Fat injections or HA fillers
Acne scars – HA fillers
Lines around the mouth– non-HA fillers
In selecting the right injectable for any area of the face or body, you and your doctor will need to consider several factors, including:
 

The efficacy of the injectable as a treatment for your problem area.

 

How quickly your body may metabolize the injectable.

 

Any side effects that may occur.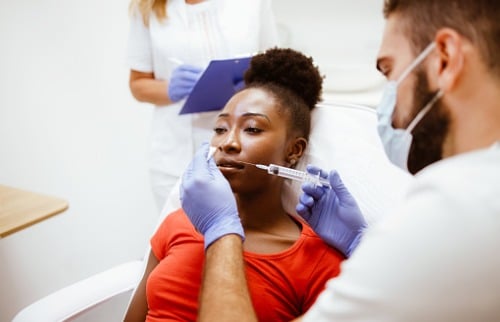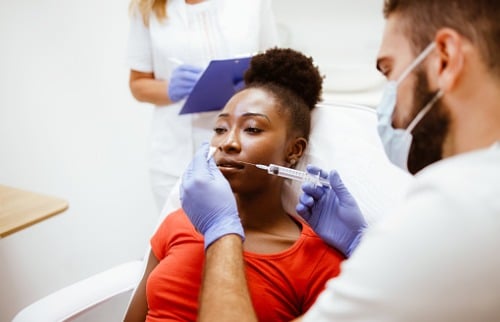 From the patient perspective, cost and how many treatments are required can also be important factors. Some injectables work most effectively over the course of several treatments. With regards to how long a treatment may last, HA fillers typically metabolize more quickly than the other options. Fat injections are meant to last in the long term, but any weight loss will affect these fillers. Non-HA fillers can last longer than HA fillers but may not necessarily be the right treatment for a particular site.
Injectables have transformed how cosmetic dermatologists treat patients, providing a fast and easy alternative to surgery. If you are interested in exploring how injectables can help address your problem areas on the face, neck and body, reach out to a specialist today. They can guide you through the selection process and find the injectable that works best for you.