What Are the Benefits of Photofacials?
July 22, 2021 by VitalSkin Dermatology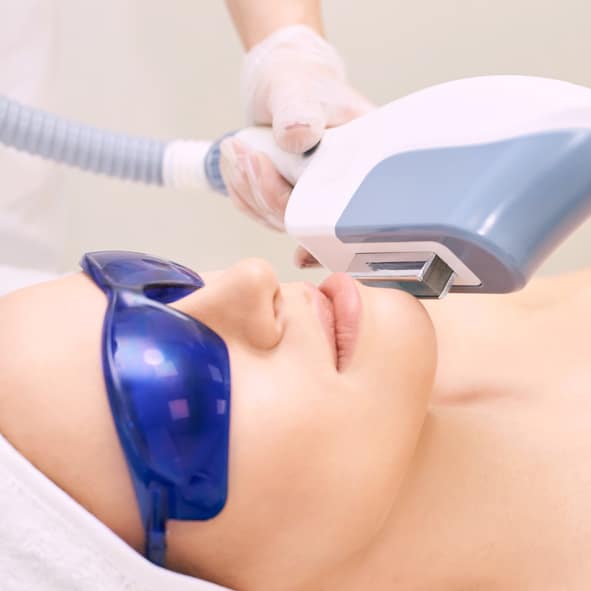 Wrinkles, age spots, spider veins–they all are skin issues that remind us of our aging and make us self-conscious. However, they can all be treated through a simple procedure called a photofacial. This procedure simply uses pulses and lights to not only treat your skin pigmentation and blemish conditions, but also to bring back your confidence.
What Is a Photofacial and How Does It Work?
A photofacial is a non-invasive skin procedure using intense pulsed light (IPL) to improve signs of sun damage, brown spots, birthmarks and even acne on your face. However, it is not limited to your face and you are able to have photofacials on any part of your body (except your eyes as that can damage them).
During the process, the light turns to heat to target the discoloration on your face. There are two steps to the photofacial process including targeting a specific spot and dissolving the cells to make your skin smooth and clear. Part two heats the cells to increase collagen production.
Benefits of Photofacials
Photofacials using IPL help improve many skin issues using broad-spectrum lights and pulses.
Acne: Photofacials target the bacteria known to cause acne. In addition, IPL penetrates the first (epidermis) and second (dermis) layers to target the acne. This treatment can be life-changing in the battle against acne, especially in regard to self-consciousness.
Skin pigmentation: If you suffer from sunspots or rosacea, photofacials may be the procedure for you. The pulses of IPL will not only target the darker pigment but also even out your tone.
Better skin: The IPL process targets skin ailments but also creates younger-looking skin through the collagen increase. As your collagen increases, you will reduce wrinkles and help with spider veins. If you are treating a skin issue, you get the prevention of skin aging as a bonus.
Additionally, photofacials do not use harsh chemicals such as those found in skincare products. There is also no need to set aside recovery time since the procedure is non-invasive. In less than an hour, you can begin the process of eliminating your skin blemishes with no hiccups.
Are There Any Downsides to Photofacials?
Like any procedure, there is some discomfort and redness associated with it. However, if you are self-aware about skin discoloration, the discomfort and redness will be slight inconveniences to seeing your skin improve.
Depending on the severity of the skin issue, more than one photofacial may be needed. However, even the most difficult skin conditions can be cleared up in just a handful of sessions over a few months.
However, photofacials can be more expensive than traditional treatments and are not usually covered by insurance because they are cosmetic in nature. Photofacials may also not be successful on darker skin because it affects pigment.
At VitalSkin Dermatology, we believe you deserve the best. We can create a plan for your photofacial paying special attention to your unique needs with our friendly staff and board-certified dermatologists. We have successfully treated numerous skin conditions and blemishes with IPL and would be happy to discuss the photofacial option with you.
If you would like to learn more about photofacials, set up a consultation with a dermatologist today.