The Slimming Effects of CoolSculpting® 
August 17, 2022 by VitalSkin Dermatology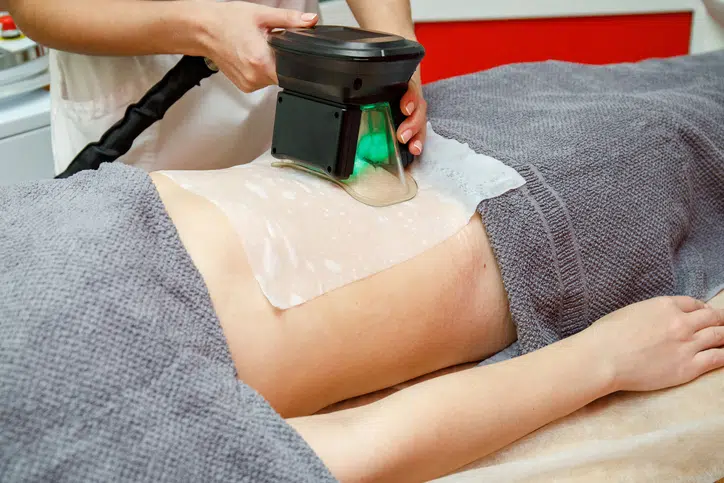 Despite exercise and dieting, fat can be stubborn. Through CoolSculpting, fat cells are selectively injured when they are cooled to a certain temperature. CoolSculpting uses safe and effective cold temperatures to freeze fat cells underneath the skin while leaving the skin unaffected. Wondering if CoolSculpting is right for you? Keep reading to learn more!
What is CoolSculpting?
Stubborn fat is a common concern for many patients. Fat cells shrink in size when we lose weight and expand in size when we gain weight, but they do not go away with weight fluctuation. Even with dieting and exercising, this can create pockets of fat that are more difficult to reduce.
Thankfully, there is a safe, non-invasive and convenient solution—CoolSculpting. This treatment targets hard-to-lose, unwanted pockets of fat, permanently destroying them via a targeted cooling mechanism which leads to lasting results. Fat cells can be selectively injured if they are cooled to a certain temperature, while leaving the skin unaffected.
This unique device is FDA-approved for the treatment of nine areas: the abdomen, flanks, thighs, chin, bra line, back, upper arms and underneath the buttocks. Even better, there is no downtime after treatment and results occur gradually over two to three months after your last treatment, with most patients needing only two to three sessions of treatment. Patients may see up to 20-25% fat reduction per treatment.
What is the CoolSculpting procedure like?
What is it like to be treated with CoolSculpting? Does it hurt? Are there side effects? The CoolSculpting treatment is not painful. The area being treated becomes numb, with a "pins and needles" feeling as the numbness kicks in. Then you can relax while the machine does all the work. Patients have done work on their laptops, watched videos, read a book and even taken a nap during their treatments. The post treatment massage can be uncomfortable but manageable.
After the CoolScultping Procedure
There may be some swelling, tenderness and temporary numbness in the treated area(s) after the procedure, but it is overall a very safe and well-tolerated treatment. Other side effects are rare. The most serious side effect, paradoxical hyperplasia, is very rare with only 1 in 3000 occurrences or 0.033%. Allergan and CoolSculpting even offer a program to correct this rare side effect should it occur.
Is CoolSculpting right for me?
Good candidates for CoolSculpting have noticeable bulges they'd like to address. The treatment is specifically designed for both women and men who have unwanted fat that resists diet and exercise. It is not a weight-loss treatment, but is a suitable non-surgical alternative to liposuction. Since it is not a weight-loss treatment, it is possible to gain weight post-treatment if you don't keep up your healthy habits.
CoolSculpting is an incredibly safe, easy and effective way to treat stubborn fat from jawline to thighs. Give us a call or visit our website for more information or to schedule treatment!
About the Author
Dr. Toral Patel is a board certified dermatologist at VitalSkin affiliate Dermatology + Aesthetics located in Chicago, IL. To schedule an appointment with Dr. Patel, click here.