Male Pattern Hair Loss
September 12, 2022 by VitalSkin Dermatology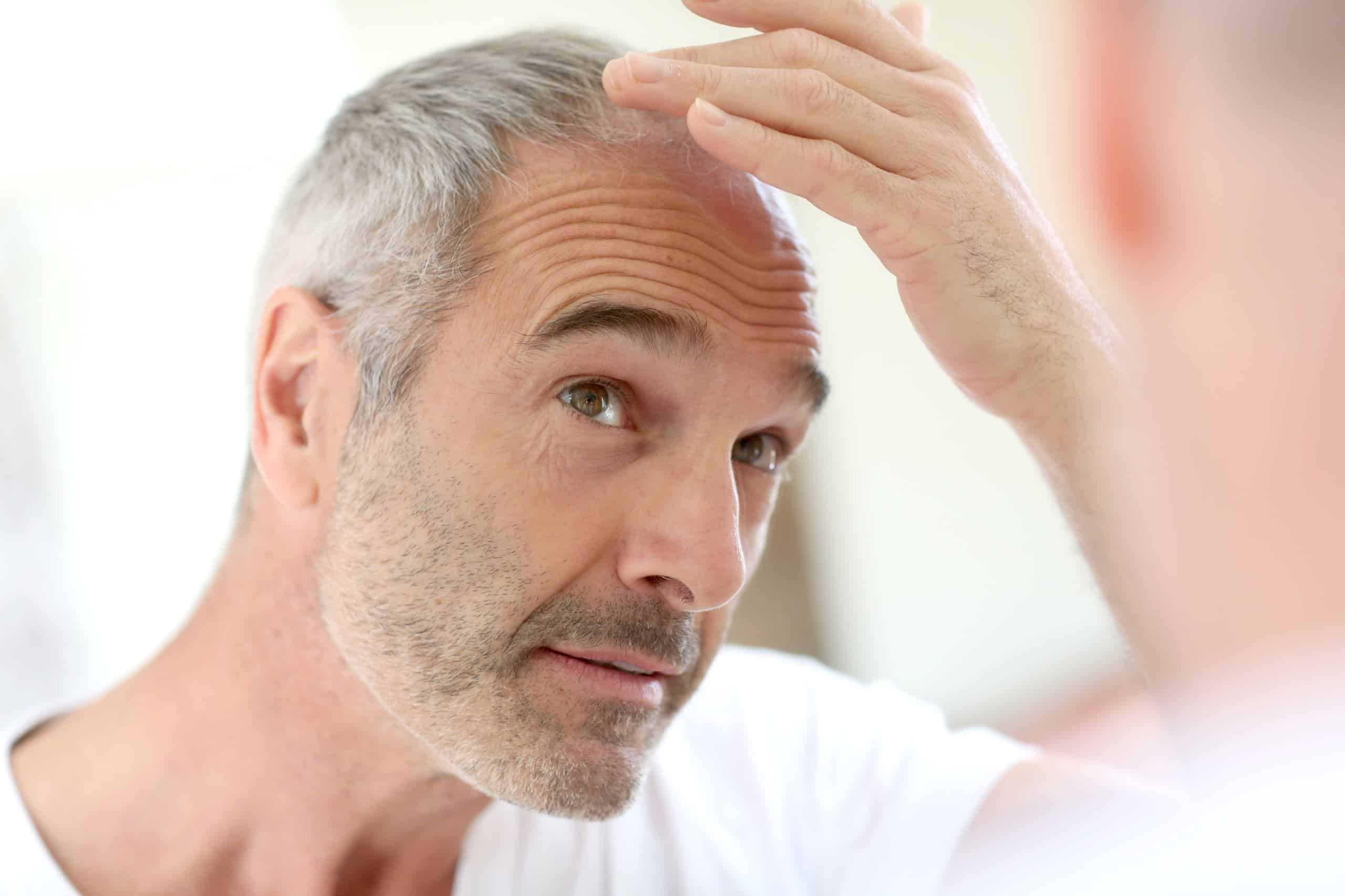 Hair loss affects millions of men and women each year. However, many people find it difficult to discuss. Read the article below to learn more about male pattern hair loss and the treatment options that are available.
What is Male Pattern Hair Loss?
Male pattern hair loss, also known as androgenetic alopecia, is a common topic brought up by our male patients of all ages during skin exams. Eighty percent of men will experience androgenetic alopecia by age 70. This type of hair loss presents as regression of the frontal and temporal hair line and loss of hair density of vertex scalp. Females can experience this type of hair loss as well, which presents with a different pattern with maintenance of the hair line and widening of the central part. When your dermatologist examines the scalp with a dermatoscope, we can see the diameter of the hair shafts have become varied in size, called miniaturization, which patients commonly describe as thinning. There are no symptoms associated with this process.  
What Causes Male Pattern Hair Loss?
Androgenetic alopecia has a strong genetic predisposition that leads to varying sensitivity to levels of hormones called androgens. One of these androgens called dihydrotesterone plays a role, and some of the treatments we use to target this hormone can help reverse this process.  
How is Male Pattern Hair Loss treated?
It is important to know that this type of hair loss is normal and no treatment is required. However, this can still be distressing to males of any age and there are effective and safe treatment options available.
Topical Minoxidil
A great first–line option is using topical minoxidil, also known as the brand name Rogaine. The mechanism of active of topical minoxidil is not completely understood, but we think that it may work through lengthening the growth phase anddilation of the blood vessels providing increased blood flow to the hair follicles. It is important to be patient when starting this product as it can take six to nine months to see treatment results. Understanding expectations is also important; those who start with a greater degree of loss may not experience full regrowth. Sometimes the goal is to maintain the current hair. It is important to continue to use topical minoxidil for continued effect. If product use is discontinued, hair returns to the state it would have been without ever having used the product.  
Other Options
Other treatment options include oral minoxidil or oral finasteride, which may be added to the treatment regimen after a discussion of risks and benefits. Low level light therapy and procedures such as platelet rich plasma injections and hair transplantation can also be options. There are many over-the-counter products that are marketed toward hair loss, and it can feel overwhelming to navigate. Your dermatologist can help with product suggestions that are evidence-based. It is important for patients to know that not all over-the-counter products are without potential risk. There is no evidence that high doses of oral biotin can successfully treat male pattern hair loss. Further, they can interfere with laboratory testing such as thyroid function tests and cardiac enzymes.  
In Conclusion
It is important to see a board-certified dermatologist when experiencing any type of hair loss, as there are many causes. Your dermatologist will take a thorough history, including time course, family history, medications, recent stressors, and in some cases, order some labs. Photos may also be taken to monitor response to treatment. 
About the Author
Dr. Emily Stevenson is a board certified dermatologist at VitalSkin affiliate Dermatology+Aesthetics located in Chicago, IL. She provides medical, surgical and cosmetic dermatology services and treatments to patients of all ages. To schedule an appointment with Dr. Stevenson at the Oak/Elmwood Park location, click here. To schedule an appointment with her at the Bucktown location, click here.