5 Things to Look For in Your Dermatologist
November 11, 2020 by VitalSkin Dermatology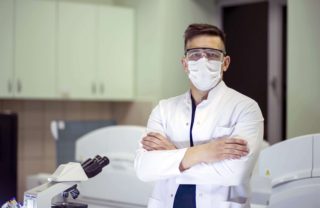 Experiencing issues related to your skin can cause a lot of undue stress in your life. As you begin your search for a dermatologist, you want to get it right. The best dermatology practitioner for you will help ensure that you get the right treatment in the best way possible. 
Many of us, however, may not have as much experience with dermatologists as we do with general practitioners: What exactly should you look for when looking for a dermatologist? Here are 5 things we recommend when vetting a doctor for your skin.
1) Experience with The Right Types of Dermatology
There are different types of dermatologists out there. There are those that focus more on the basics of dermatology, such as rashes and rosacea, then there are cosmetic dermatologists who combine the medical side of practice with aesthetics. If your main concern is aging, you may want to focus your search more on a cosmetic dermatologist who can deliver treatments that address issues such as skin laxity, wrinkles, and volume loss. 
2) Their Medical Credentials
As with any type of doctor, you want a dermatologist that has the right training and credentials. One important thing to look for is that your dermatologist is certified by the AAD, or American Academy of Dermatologists. While not a guarantee that the dermatologist is the right fit for you, this will tell you that they are not only sufficiently trained but they have met a standard of criteria defined by the governing board of Dermatology in the States. 
3) A Great First Impression
Ideally, you want to be able to have a consultation with a doctor before deciding on them or on a treatment. In your initial consultation, consider your first impression of the dermatologist: 
·      Is this someone you can work with in the long term? 
·      Is this a doctor who has the best interests of patients at heart? 
·      Does the doctor have a good deal of experience with your particular condition or issue? 
You also want to take a look at how well you communicate with a dermatologist. Dermatology is a very personal field of medicine and can involve things that you may feel sensitive discussing. Make sure that you find a doctor you feel you can trust and with whom you can speak freely and comfortably. Finally, if you have to wait a long time for an appointment, don't worry— this is a good indication that the doctor is popular and may be well worth the wait.
4) Their Patient Reviews
Maybe no one can tell you more about a dermatologist than their patients themselves. After you have had your consult with the doctor, read their reviews online. You can find these via websites such as Yelp or Zocdoc, or you can run a simple google search for the dermatologist, which should also pull up some reviews. 
Read through the reviews to see if other patient experiences line up with your first impression of the doctor. A doctor who puts on a happy face during your consult but doesn't consider patient wellness and satisfaction in the long run may not be the best one for you. 
While you're waiting in the reception area before your appointment, you can also consider striking up a conversation with your neighbors. What have their experiences with the doctor been? Have they been satisfied with their treatments?
5) The Right Patient Care Plan
Finally, you will want to ask several questions to which— fingers crossed— your doctor will have the right answers, especially if you have a specific condition with which you need help. 
Ask your potential dermatologist about their experience with your condition: How often do they treat someone just like you? If treating your condition involves advanced equipment, ask too if the doctor rents or owns equipment. Owning the equipment may be an indication that they do these types of treatments on a regular basis, which is exactly what you should be looking for. Make sure to ask if you can view before and after images of other patients so you can see for yourself how successful your dermatologist has been in treating your particular issue.